University Park Garage Addition
The original detached garage needed to be completely rebuilt due to disrepair. Since they were already doing new construction, the owners felt that adding a bedroom, bathroom and closet above the garage would be a good idea.
We tore down the old garage and built a new foundation with piers to accommodate the additional loads a second story would add. We added a staircase towards the pool so as not to encroach on the garage portion. Upstairs, there is a large bedroom, a full-bath with tub, a wet-bar and three closets.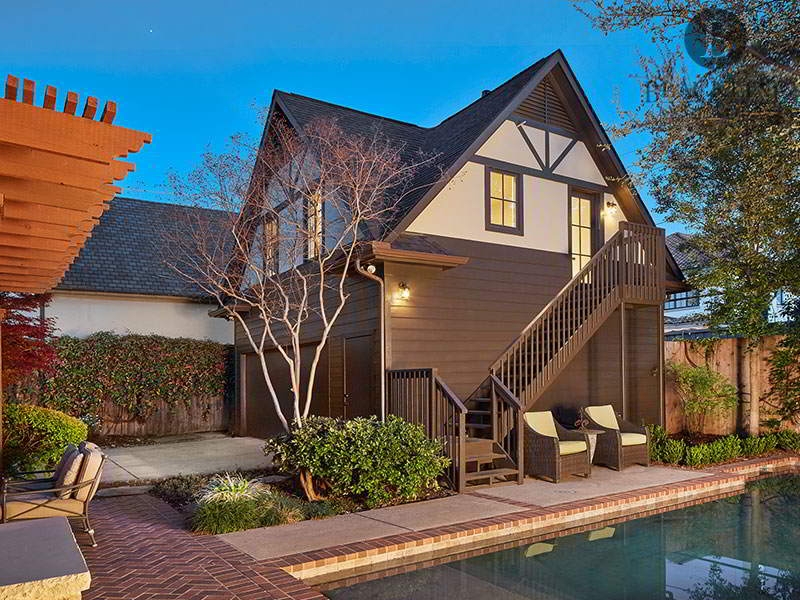 Highland Park Garage Studio Addition
The owner needed a music studio so he could practice without bothering family and neighbors.
We added a large room above the garage with a full bath, a wet-bar and three closets. We put the stairs on the outside to maximize the living space.
M-Streets Garage Apartment Addition
The owner had purchased this home to give to his daughters. One would get the house and the other would get the garage with an apartment we would add.
There was already a detached garage with an apartment inside, however it was too small and was in need of fixing up. We took out one of the car bays to allow for an expanded apartment, more storage inside the garage, as well as an attic. We replaced the window a/c units with a full split-system and added a kitchenette adjacent to the new bed, bath and closet.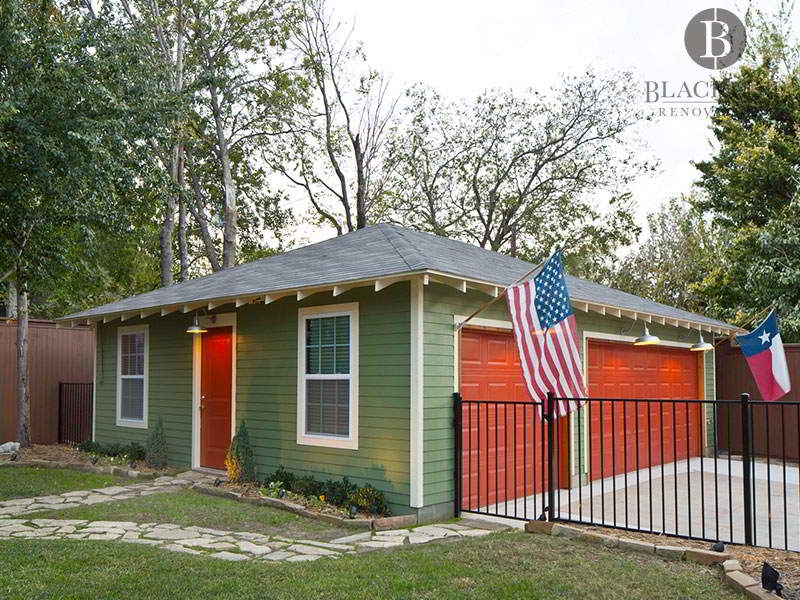 M-Streets Three-Car Garage Addition
The existing detached garage was not large enough to fit the owner's boat, classic truck and everyday car. He needed a three-car garage to store and project his investments.
Since the old foundation was in poor shape, we tore out the old garage and foundation and started fresh. We added a three car garage with one bay deeper than normal for the boat and a shop added for projects.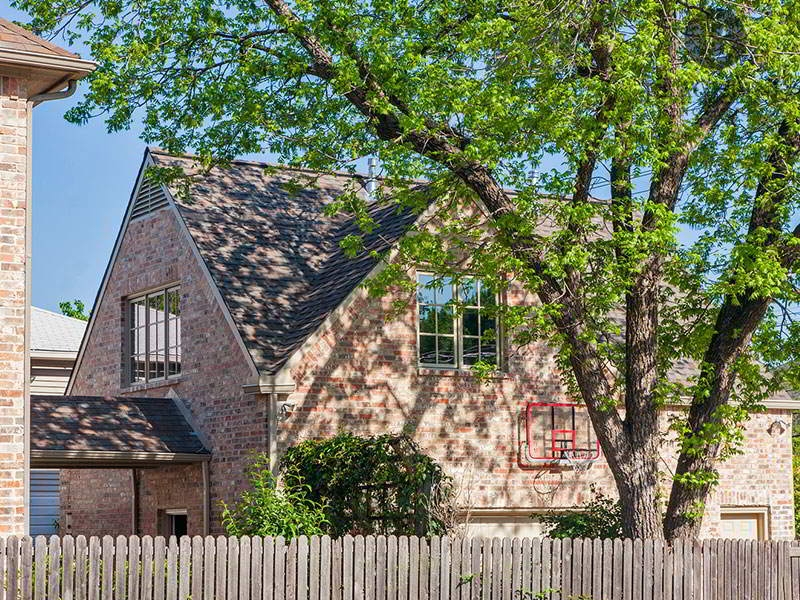 University Park Home-Office Garage Expansion
The owner was an attorney who wanted a home office. Adding it over the existing garage was the perfect solution.
The original footprint was a one-story, three-car garage. One section was being used as storage. We decided to convert one of the parking spots to a staircase and storage room. Upstairs we added a full bath, three closets and a large open office. We connected the house to the garage with a roof.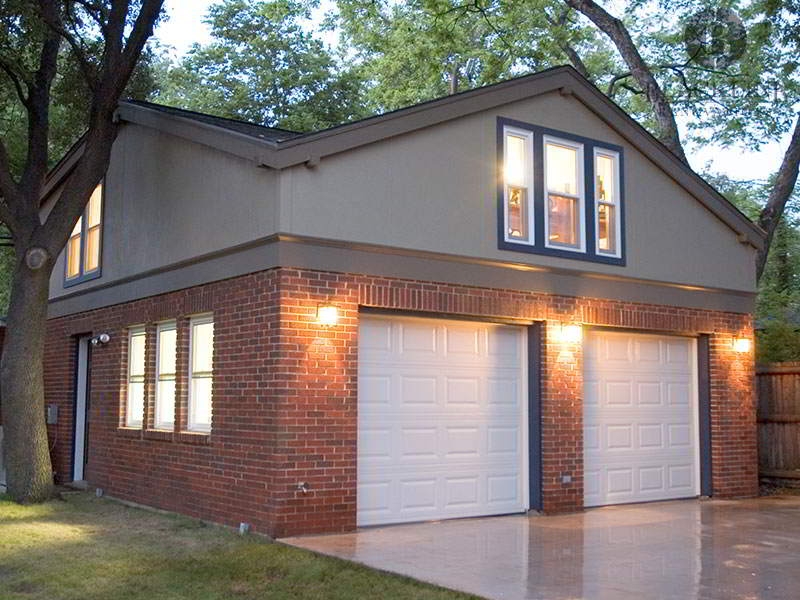 M-Streets Garage Remodel and Expansion
The original garage lacked a sturdy foundation and driveway. There were no garage doors, therefore, there was no usable storage space. Theft had occurred in the past and the client was in desperate need of a new garage.
The old garage and foundation were completely removed and a new 2-car garage complete with a full-bath, wet bar and living area was built. The garage is large enough for a workshop even with cars parked in it.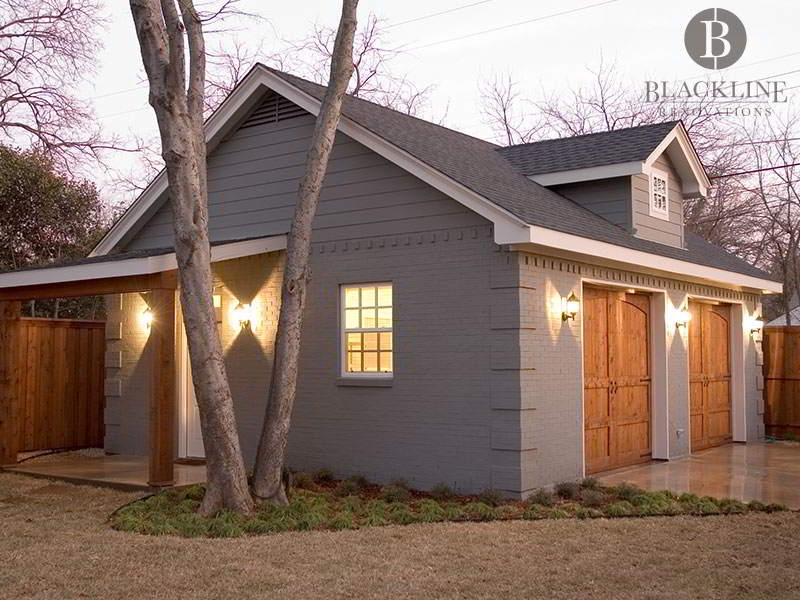 Bluffview Garage Rebuild
The original detached garage was too small to even fit one of the owner's cars.
The decision was to build new. We completely removed the old garage, foundation and up, and built a new, oversized garage to house his larger-than-normal cars. Every detail about the garage matches the house.
Lakewood Detached Garage Addition
This was a speculative home we built in 2005.
We bought an existing home thinking we would remodel it but after we drew up the plans for a remodel, we realized due to the size and condition of the old home, it would make better sense to build a new home with a new foundation. We ended up building a 2-car detached garage to finish the home's rebuild.
M-Streets Garage with Attached Pool House Renovation
The owner had a pool they used often and a detached garage, but the garage had fallen into disrepair and needed replacement to include a pool bath and living room.
Luckily the old foundation was in good shape so we re-used it and added a two car garage with a living room and full bath upstairs.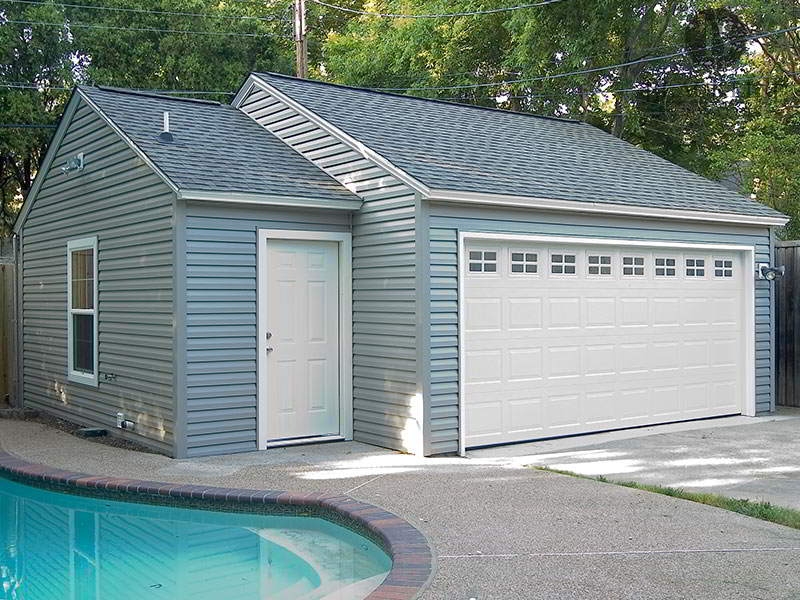 M-Streets Garage Rebuild and Expansion
The original garage was falling apart and needed a new foundation. The owner wanted a large 2-car garage for his woodshop.
The old garage and foundation were taken out and a new one was built. We incorporated a laundry room and special electrical requirements for the power tools.